Scott, Vicknair, Hair & Checki Named a 2018 Law Firm 500 Honoree for Fastest Growing Law Firms in the U.S.
Our team at Scott, Vicknair, Hair & Checki has been dedicated to providing excellence in customer service resulting in many happy clients. In doing so, our commitment and focus has taken us on a fabulous journey of growth – both personally and for our business.
We are pleased to announce that our law firm has been named a 2018 Law Firm 500 Honoree awarded to the Fastest Growing Law Firms in the US. Although this recognition is calculated on growth, it could not be possible without the continued operational excellence and commitment to client service exhibited by our team each and every day.
We are ranked 31 on the 2018 Law Firm 500 and have grown 414%.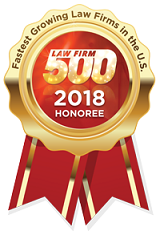 Thank you so much to our loyal clients, and partners who have supported us as we have grown.
The Law Firm 500 Award is an honor for our firm to receive and a tribute to our team. Of course, we could not have achieved this truly remarkable accomplishment without our devoted team members. Each in their own way has contributed to making this possible.
As we continue to grow we encourage you to follow our progress and stay in touch! You can view the full list of 2018 Law Firm 500 Honoree firms here: https://lawfirm500.com/2018-award-honorees/
For more information about our firm contact us at info@svhclaw.com or (504) 684-5200.
ABOUT LAW FIRM 500
The Law Firm 500 Award is an honor bestowed upon the fastest growing law firms in the United States. Started in 2016, this prestigious list of the nation's most successful Law Firms has become an inspiration for firms world-wide to set and achieve their goals, no matter what the economic climate. The Law Firm 500 "FAST and PROFITABLE GROWTH" Conference & Awards is an annual event that celebrates these remarkable accomplishments and offers power-education for law firm owners on how to build a successful law firm business. For more information please visit: www.LawFirm500.com
AWARD METHODOLOGY
The 2018 Law Firm 500 Awards are ranked according to percentage of revenue growth when comparing 2014 to 2017. To qualify, companies must be a for-profit law firm, based in the U.S., and independent (not a legal department or division of another firm). Applicants must have generated minimum revenues of $50,000 in 2014 and a minimum of $500,000 in 2017. Law Firm 500 reserves the right to decline applicants for subjective reasons. Companies on the Law Firm 500 List are featured on the Law Firm 500 website and distributed to major legal journals and websites.